Here is a few links to places for 912 stuff any new ones please let me know. I will post them here.
If you have any new site do let me know. I will add them on. Some of the prices of spare parts are going mad just remember there are always parts out there so don't get held to ransom. Good luck out there.
Don't for get safety these cars are over 30 years old now so brakes are old renew what you can. The pads are cheap and so are the disc's eccept 69 rear discs. And the hose's are cheap when you buy braded Stainless steel ones as they are only about £10 a corner. Some cars are still driving on the org hoses......don't do it. Shocks also old a new set on the car will transform the ride. And seat belts I am going to up date mine so I will post how I get on with them.
Play safe kids...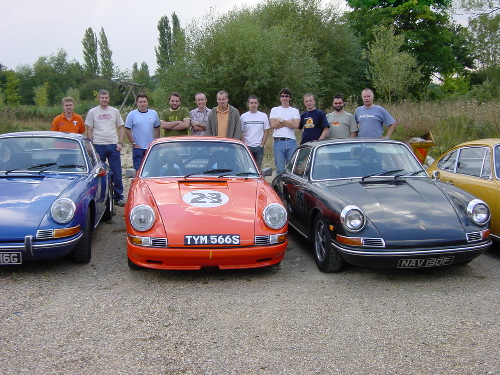 912 web sites
classic-porsche
912sig.pca. USA
USA arm of the Porsche club USA great site lovely slate grey 912....
912 UK register
Gavin has made a great site for the 912 very useful for newbe 912 owners it is linked to the Porsche club GB. Drop him a line and get your car on the UK reg.
Barw web site in Netherlands
Barw has a fab white 912 and stores it out side....... see the car coon on his site.
Dave Hillmans web site
Dave site is a holy bible he has over the years deleloped a great site and it is well know now around the world.
912 Parts links
Pelican parts
New and second hand parts with a tec forum for people all over the world 10/10
Roger Bray
UK based Porsche classic spare parts in Dorset. Well stocked and Mark is very helpful and keep on Porsche. Roger has been in the 356 restoration game for along time.
Andy Prill (God for short)
The uk's leading engine builder for Porsche 4 bangers. Don't think you know until you speak to him. Then you will know...
Ebay
Evil bay. It used to be very good for Porsche bits and bobs but now the price has gone though the roof tread carefully you will find the parts you need. As for £ $ well it's what you want to pay
lenz-trend-produkte
Great German site I met this guy at Auto Classic 2003 he has a great range of products and his prices are for once in the Porsche world GREAT other take NOTE!!!!!
partsobsolete
They have it sewn up with a great stock of parts for your Porsche to keep it on the road.